Data to boost energy efficiency
Up to 2.5% of global CO2 emissions can be prevented by running heat exchangers at optimal performance. Every year, the number of heat exchangers Alfa Laval services to optimize energy efficiency, saves our customers' power capacity by 50 GW. ​
Imagine what we could do if all industries serviced their plate heat exchangers to optimize heat transfer efficiency. Furthermore, what if the optimization evolves smarter and more digitalized.
Watch the video to learn about how Alfa Laval addresses this.
The Smart Heat Exchanger​
Alfa Laval Smart Heat Exchanger is an online connected service, proactive monitoring for Gasketed Plate Heat Exchangers of all brands.
By simply attaching sensors on the equipment, and our dedicated analytics, we enable our customers to oversee current and future status through an online panel.​
Enabling smart decisions
Conditioning Monitoring: provide insight on the thermal condition of the plates and mechanical condition of the gaskets.​
Predictive Maintenance: give indication of when should clean the plates and change the gaskets per our expertise. ​
Performance optimizer: guide on how operate, service and redesign to reach the best performance, and reduce operational costs and CO2 emission.​
Remote support: instant data allows our experts to stay close to you anytime, to avoid breakdowns and maximize your asset health.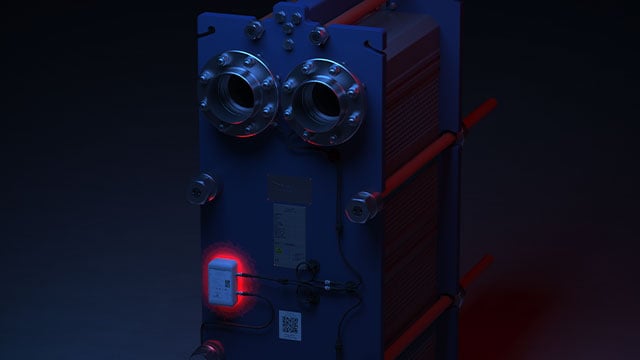 Get Started Now!
Do you want to avoid unplanned maintenance? Improve reliability to increase uptime? And maximize performance to reduce operational costs?
Tehokkuus joka kestää vuosikymmeniä
Lämmönvaihtimien pitäminen huippukunnossa voi vaikuttaa merkittävästi kannattavuuteen. Laiteongelmat voivat johtaa suunnittelemattomiin seisokkeihin ja tuotannon menetyksiin, mutta sen lisäksi puutteellisesta huollosta johtuva lämpöhyötysuhteen heikkeneminen voi myös vaikuttaa tuotteiden laatuun ja nostaa käyttökustannuksia.
Meillä on asiantuntemusta jolla voimme auttaa sinua riippumatta siitä kohtaatko ongelman tänään, haluatko estää tulevia häiriöitä tai ratkaista asian itse online-vianmäärityksen avulla.
Huoltamalla parempi energiatehokkuus
Vuosittain huoltamiemme lämmönvaihtimien määrä vastaa 50 GW:n vähennystä asiakkaidemme energiantarpeisiin. Se vastaa energiamäärää, jonka 10 000 tuuliturbiinia pystyy tuottamaan samassa ajassa.
Hiilidioksidipäästöissä 50 GW vastaa 25 miljoonan tonnin vähennystä hiilijalanjälkeen tai Lontoon kaupungin vuosittain aiheuttamia hiilidioksidipäästöjä.
Kuvittele, mitä voisimme saavuttaa, jos maailman teollisuus huoltaisi säännöllisesti levylämmönvaihtimiaan lämmönsiirron tehokkuuden optimoimiseksi.