Superior performance. Sustained over time.
Investing in an Alfa Laval Packinox heat exchanger means investing in performance. The key to maintaining as-new performance over time, and thereby maximizing return on investment, is continuous service.
We have developed a complete service portfolio with all you need to ensure high and consistent performance from your Packinox heat exchanger throughout its entire life span – everything from fouling-specific cleaning procedures to performance monitoring and optimization services.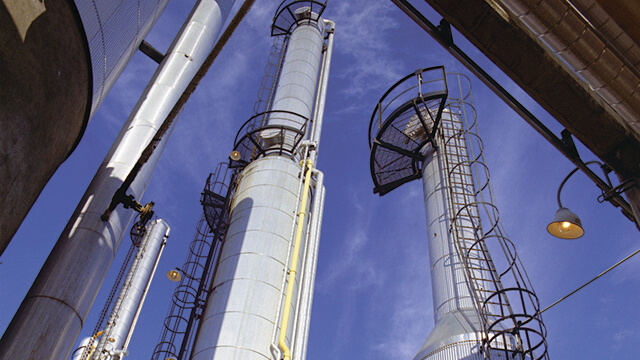 Quick help and on-site assistance

Our service team is standing by to assist you via telephone or video link. If on-site support is required, we can have our service experts at your facility within a couple of days.
Click the link below to learn how we how we helped a US refinery during a turnaround and ensured the plant could be restarted on time.
Performance optimization with Packinox Performa

The software continuously collects and analyses data from your Packinox heat exchanger and sends weekly reports on the status of your unit in terms of fouling, mechanical integrity, thermal and hydraulic performance.
If Performa detects any deviations, it also recommends appropriate actions.
A complete range of services – customized to your needs
Our team of service specialists can help with all types of onsite and remote services for your Packinox heat exchanger. Our standard range include:
Start up, commissioning and test run supervision
Condition monitoring and predictive maintenance
Performance optimization
Maintenance, cleaning, and repairs
Upgrades
Service and maintenance training programme
Troubleshooting
Genuine spare parts
And much more
If you have any special requests, we are of course happy to customize our standard services to fit your needs.
Alfa Laval Service Agreement
Make life easy and reduce the hassle of planning and performing service on your Packinox heat exchanger with an Alfa Laval Service Agreement. This fully tailored service solution covers everything you need to ensure uptime and performance.
A Service Agreement can include any of our standard or customized services. After an initial dialogue where we discuss your operating conditions and requirements, we create a packaged solution with the services you wish to include.
We handle all the practical details
We make sure the agreed upon service intervals are maintained, and we handle all the planning and parts procurement. All service interventions are scheduled in agreement with you to ensure your production is not disturbed.
Optimized service cost
With an Alfa Laval Service Agreement, you never risk overservicing or underservicing your Packinox heat exchanger, resulting in an optimized and predictable service budget and low total cost of ownership.
Service and maintenance training programme
Well trained operators are a prerequisite for reliable operation and low operating costs. We offer a full range of training courses for all your staff, including operators, service personnel, engineers, and supervisors. Our courses cover everything you need to know to safely operate and maintain a Packinox heat exchanger and are held either at your site or at our production site in Chalon.
Topics include:
Installation
Maintenance, including cleaning
Operating a Packinox
How it works
Customer-specific courses with tailored content
Expert help
For process-critical equipment, such as a Packinox heat exchanger, it is essential that the personnel servicing the unit have the right knowhow and experience.
Our Packinox service technicians are specially trained experts with long experience from servicing and auditing Packinox heat exchangers. And whenever welding works is required, we send one of our certified welders from our factory to ensure the highest possible weld quality.
Alfa Laval Energy news on Linkedin
Learn how our solutions, and the support we can offer, can help you identify new possibilities for both profitable growth and a positive environmental impact. On our showcase page you can keep up to date with our latest innovations and solutions and the work we do within clean energy, energy efficiency, and the circular economy.