Thermal power
Lämpövoimatuotanto on maailman sähköntuotannon selkäranka. Kysynnän kasvu ja lainsäädännön tiukentuminen edellyttävät uusia tapoja tuottaa sähköä luotettavasti, ympäristöystävällisesti ja kustannustehokkaasti. Alfa Laval tarjoaa yhä tehokkaampia tapoja tuottaa höyryä ja sähköä sekä optimoida prosesseja turbiinikäyttöisissä voimaloissa.
Liittyvät sovellukset
Liittyvät tuotteet
Huoltopalvelut
Kaikki
Air heat exchangers wetted
Automaatio
Automaattiset vastavirtahuuhtelusuodattimet
Kalvot
Kattilat
Keskipakoseparaattorit
Lamelli-ilmalämmönvaihtimet
Lamelliputki-ilmalämmönvaihtimet
Levylämmönvaihtimet
Lämmittimet
Sekoituslaitteet
Suodattimet ja siivilät
Suolanpoistoratkaisut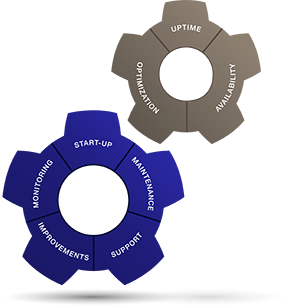 Maailmanlaajuisella palveluverkostollamme on omat asiantuntijat, jotka tuntevat toimialasi. Olemme tukenasi tarjoten osia ja osaamistamme missä ja milloin tahansa.
Alfa Lavalin 360°-palveluvalikoima kattaa kaikki tarpeesi laitteistosi koko elinkaaren ajan – käynnistyksestä, kunnossapidosta, tuesta ja parannuksista valvontapalveluihin – käytettävyyden, toimivuuden ja optimoinnin maksimoimiseksi.
Minimoimalla kokonaiskustannuksesi autamme pysymään kilpailijoittesi edellä.
Lue lisää palvelutarjonnastamme
---
Boosting effeciency and reliability
Enhance the performance and the energy efficiency of your power plant with compact, cost-effective systems from Alfa Laval. Our systems work to ensure the most efficient and reliable operation of your plant.
Alfa Laval's broad portfolio includes gasketed heat exchangers, welded heat exchangers, air coolers, filters, separation technologies, industrial boilers, waste heat recovery units and other equipment. Improving control over energy input helps reduce operating costs, boost plant reliability and uptime, and extend the service life of critical systems.
Our comprehensive range of solutions for thermal power plants include:
Fuel oil systems
Lube oil treatment
Transformer oil treatment
Flue gas desulphurization and gypsum dewatering
Gas performance heaters
Gas cleaning and CO2 capture
Generator cooling
Feed water pre-heating
District heating condensers/boilers
Steam turbine condensers
Lube oil coolers
Gas turbine sealing and purge air coolers
Air heat exchangers
Blow down coolers
Gland steam condensers
Closed cooling water systems
Self-cleaning filters for seawater, river water or other "dirty" water applications
Tarjouspyyntö Thermal power